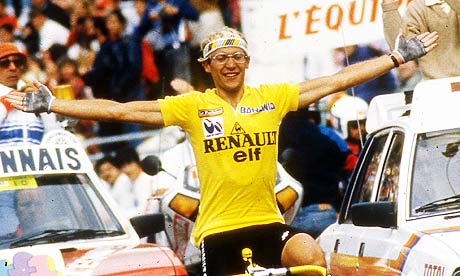 The death of the double Tour de France winner Laurent Fignon yesterday from cancer at the age of 50 drew tributes from right across French society and sport, from the president Nicolas Sarkozy to his former literature teacher, the organisers of the Tour itself, and former rivals such as the five-times winner Bernard Hinault. As an honest man who never flinched from self-criticism, Fignon would have smiled wryly at such a public farewell.
An almost painfully private man, Fignon was defined – very much against his will – by the very public way in which he lost the 1989 Tour de France, a race which is still widely considered the greatest in the event's 107-year history.
He lost by just eight seconds in the final stage, the Tour's narrowest margin, to the American Greg LeMond after beginning the 24.5km time trial to the Champs-Elysées with a lead that seemed comfortable. He was never quite the same athlete again, and for years he was unwilling to go back to the scene of the defeat.
Nearly 16 years after quitting professional cycling to work initially as an event organiser and later as a television summariser, Fignon had announced in spring 2009 that he was suffering from pancreatic cancer which had spread to his intestinal tract.
He reported on the 2009 Tour de France for French television in between sessions of chemotherapy and returned to the race this summer to commentate when his strength permitted. He was admitted to hospital two weeks ago suffering from pulmonary complications.
"He fought to the end," said his close friend, his former masseur Alain Gallopin, now a manager at Lance Armstrong's Radioshack team.
"[Monday] morning, we could feel he was still fighting, he was asking for information about his treatment. Then his state worsened and he slipped away. For a year and a half a lot of different cures have been tried but none has worked."
Fignon was expected to take a place among the greats of the sport such as Eddy Merckx and Hinault when he dominated the 1984 Tour de France in the most crushing style, taking five stages and finishing over 14 minutes ahead of the "Badger" who had been absent when Fignon rode to his first Tour win a year earlier. "I will win five or six, and then I'll quit," he said afterwards. But instead the Parisian spent the rest of his career attempting to regain his old form after achilles tendon operations in spring and autumn 1985.
There were sporadic triumphs, such as a meticulously planned and executed brace of victories in the Milan-San Remo Classic in 1988 and 1989, and the 1989 Giro d'Italia. But his autobiography published in France last year made it clear that after his two years of grace, he fought a painful battle against the limits of his body. Fignon's book spared no one – including some of those who paid tribute yesterday – but least of all himself, as he admitted to doping during his career with cortisone and amphetamines.